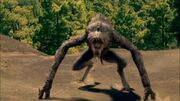 Episode 1.1 of
Anomalies Incorporated
aired on the 26th July 2011. It was the first ever episode of the series.
Creatures
Edit
An anomaly opens in a park and a pack of Future Predators come through. We meet the main characters and find out about thes Secret Circle.
Mark Wader is shown the Secret Circle by his friend John Pick, and shows him his new lab and menagerie. Meanwhile the anomaly is picked up, in the park where the boy's class was doing PE. They have to decieve their teacher to get to the anomaly. They rounded up the predators, but one had gone back to the school and one to a BT building. They were rounded up by the Secret Circle soldiers and put back through the anomaly.
Back on the spaceship, it is revealed that the high boss is up to something...
Ad blocker interference detected!
Wikia is a free-to-use site that makes money from advertising. We have a modified experience for viewers using ad blockers

Wikia is not accessible if you've made further modifications. Remove the custom ad blocker rule(s) and the page will load as expected.