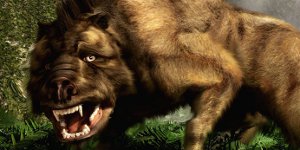 No higher resolution available.
Description
Edit
Enter the description Ranthodonts is the name given to daedon formerly known as dinohyus they are fast runners but have low stamina so if fast enough a man could out book daedon. They have a muscular jaw giving them a strong bite,despite the large head there braincase shows they the sharpest tool in the shed in terms of terms of smarts in strength they were some of bulkiest carnivores of their time.
                                                                                   Daedon despite the appearance were not related to pig and hogs but more related but more to whales and hippopotamuses. The weight varies from 1164.3.5 lbs(857 kgs) to 2437 lbs(1215.3.5 kgs). Daedon were bigger than modern bison in height and length. Daedon hunted hornless rhinos,maracheunai,embolotherium and oriedonts there competion included amphicyon,epicyon and the earliest bears and daedon's ancestor arceotherium competed with hyeanedon and nimravus.

Appears on these pages

of
Primeval: Volcano Chronicles Is a confirmed 2011 TV spin-off series from ITV Primeval, created...

Ranthodont is the name given to Daeodon (formerly Dinohyus) in Primeval: Volcano Chronicles...
File history
Click on a date/time to view the file as it appeared at that time.
Ad blocker interference detected!
Wikia is a free-to-use site that makes money from advertising. We have a modified experience for viewers using ad blockers

Wikia is not accessible if you've made further modifications. Remove the custom ad blocker rule(s) and the page will load as expected.