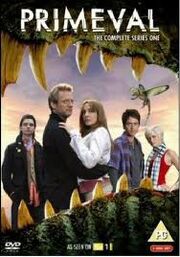 Sinopsis
Mundo Primitivo (Primeval en ingles) La serie sigue a un equipo de cientificos encargados de investigar la aparición de anomalías temporales (portales en el tiempo) , por las que entran toda clase de criaturas, procedentes del pasado y del futuro.
Episodios
Primera temporada
Personajes
Criaturas
Primera temporada
El pasado volvio:Gorgonopsia Sarcopterigio Coelurosauravus Scutosaurus Amonite
La infestacion en el metro:Mesocele Arthopleura Coelurosauravus
Mar asesino:Mossasaurus Hesperornis Pteranodon
Ad blocker interference detected!
Wikia is a free-to-use site that makes money from advertising. We have a modified experience for viewers using ad blockers

Wikia is not accessible if you've made further modifications. Remove the custom ad blocker rule(s) and the page will load as expected.