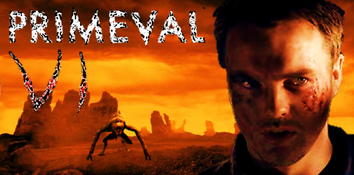 Primeval VI is a Fan-Made story line of Primeval Series 6 that will be created by NegativeSanity. This series will show how the ARC employees attempt to resume their old lives as the Anomalies begin to grow less and less frequent as the creatures comming through the rips in time become more dangerous.
In-Between dealing with the creatures and conducting research to figure out why the Anomalies are appearing in the first place, Matt Anderson continues to ponder over what the words said by the Matt he saw at the end of the last series meant with little success.
All the old characters return as well as one new recruit, Hannah Taylor, joining the team and another takes up the old place of Phillip Burton and also becomes the PR person, William Floor, along side James Lester in the ARC...Danny returns and some familliar old faces might appear in this series as well...
NOTE: If anyone want to help me write this Series, just let me know
Characters:Edit
Matt Anderson
Connor Temple
Abby Maitland
Hillary Becker
Emily Merchant
James Lester
Jess Parker
Danny Quinn
Hannah Taylor
William Floor
...And the old faces that I shall not name just yet....
Episodes:Edit
Episode 6.2
Episode 6.3
Episode 6.4
Episode 6.5
Episode 6.6
Episode 6.7
Episode 6.8
Episode 6.9
Episode 6.10
Read similar moreEdit
Ad blocker interference detected!
Wikia is a free-to-use site that makes money from advertising. We have a modified experience for viewers using ad blockers

Wikia is not accessible if you've made further modifications. Remove the custom ad blocker rule(s) and the page will load as expected.