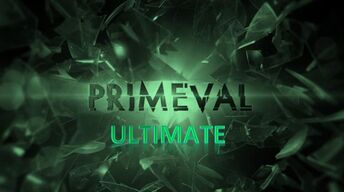 The thrid season of Primeval Ultimate aired in summer 2013. It will consist of 20 episdoes
After that the anomalies become part of the public knowlegde, the ARC decide to hired a new team to contro less dangerous anomalies incursions while the goverment aprove a law to open prehistoric parks attractions.
3.1 A family buys a Microraptor but the package came with a dangerous Sinornithosaurus
3.2 An unsual anomaly appears. It only starts sending signals after 12 hours of been opened making possible several species from an habit coming through.
3.3 An anomaly leading to Inca Period opens, where team the confronts two Hyaenodon and a Daedon.
3.4 A Deinotherium rampages through a mall
3.5 A Megalosaurus appears in a robot factory.
3.6 Five anomalies are opened allowing five crocodilians rampage in London.
3.7 The team discovers a group of boys that were living in the Jurassic.
3.8 After they get trapped in the Jurassic, they must find a way out before being attacked by the four main predators.
3.9 In a Prehistoric Sea Park, a pack of Megapiranha appears.
3.10 An anomaly appears in the Forest Dean leading to an unstoppable paradox.
3.11 An Indricotherium breaks through a race circuit of Dinosaurs.
3.12 Another anomaly lating in sending signals appears at the same time when several Utahraptors appears in a Campus University
3.13 Carboniferous creatures comes through an anomaly into a greenhouse.
3.14 The team confronts a Megalodon that has been attacking boats
3.15 The guilty behind the anomalies that dont send signals is discovered
3.16 The Intimers opens one last anomaly.
3.17. Peter is invited to the opening of the Prehistoric Odd Zoo
3.18 The team must stop a future where the dinosaurs have taken control of Earth again
3.19 An anomaly opens leading to the Future for the first time
3.20 Peter and Tom try to escape away from the Predators
Creatures
Edit
3.1 Procompsognathus, Miacis, Opabinia, Climatius, Epigaulus, Microraptor and Sinornithosaurus
3.2 Acrocanthosaurus, Deinonychus, Astrodon, Tenontosaurus, Sauroposeidon and Sauropelta
3.3 Daeodon, Hyaenodon, Gasosaurus, Shunosaurus.
3.4 Petrolacosaurus, Deinotherium
3.5 Megalosaurus and Haikouichthys
3.6 Deinosuchus, Postosuchus, Kaprosuchus, Pristichampsus and Dakasaurus
3.7 Allosaurus, Ceratosaurus, Torvosaurus, Saurophaganax, Apatosaurus, Diplodocus, Camarasaurus, Brachiosaurus, Hesperosaurus, Stegosaurus, Dryosaurus, Otniela, Camptosaurus and Ornitholestes
3.8 Allosaurus, Ceratosaurus, Torvosaurus, Saurophaganax, Apatosaurus, Diplodocus, Camarasaurus, Brachiosaurus, Hesperosaurus, Stegosaurus, Dryosaurus, Otniela, Camptosaurus and Ornitholestes
3.9 Megapirahna, Helicorpion, Cryptoclidus, Icthyosaurus, Stethacanthus,
3.10 Giant Gorgonopsid, Giant Pareiasaur and Coeulorosauravus
3.11 Dicraeosaurus, Allosaurus, Indricotherium
3.12 Iguanodon, Eotyrannus, Baryonyx, Neovenator, Polacanthus, Hypsilophodon Gastonia, Utahraptor
3.13 Estemmenosuchus, Petrolacosaurus, Giant Spider, Arthropleura, Meganeura, Pulmonoscorpius and Gian Centipede
3.14 Cetotherium, Megalodon, Livyatan, Squalodon and Odobeneceratops
3.15 Giganotosaurus, Argentinosaurus, Mapusaurus, Carcharodontosaurus, Spinosaurus and Paralititan
3.16 Elasmosaurus, Tylosaurus, Xiphactinus, Archelon, Mossasaurus, Cretoxhyrna and Pteranodon
3.17 Dicraeosaurus, Amargarasaurus, Shunosaurus, Carnotaurus, Albertosaurus, Chilotherium, Teleoceras, Platybelodon, Acheulosaurus, Sauropelta, Crylophosaurus, Miragaia, Estemmenosuchus, Spinosaurus, Giganotosaurus, Mapusaurus, Carcharodontosaurus, Utahraptor, Kelenken.
3.18 Several Dinosaurs
3.19 Future Predator
3.20 Future Predator
Ad blocker interference detected!
Wikia is a free-to-use site that makes money from advertising. We have a modified experience for viewers using ad blockers

Wikia is not accessible if you've made further modifications. Remove the custom ad blocker rule(s) and the page will load as expected.