Tyrant (Per l'ARC) Sigma (Per l'Impero dei Raptor)
No image avaliable
Biographical information
Profession
Predatore
Organisations
Impero dei Raptor e Power Pack
Height
5,5 metri
Age
18 anni
Hobbies
Combattere
Skills
Potenza del morso mortale, grande velocità e ottime capacità combattive
Status
Vivo
Production information
Actor/Actress
Se stesso
First appearance
Episodio 5.5
Latest appearance
Episodio 6.1
Premessa
Edit
Questa pagina è dedicata al mio dinosauro preferito, il Tyrannosaurus rex, saranno elencate le morti dalla sesta alla dodicesima stagione.
Il Tyrannosaurus rex
Edit
No image available
Scientific name
Tyrannosaurus rex
Home era
Cretaceo Superiore
Creature type
Animale, Carnivoro, Dinosauro, Teropode, Tirannosauride
Deaths caused
Nessuna
Appearances
Episodio 5.5, 6.1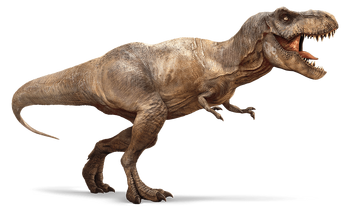 Altezza: 5,5 metri
Lunghezza: 13 metri
Massa: 6 tonnellate
Testa: Molto grande
Denti: Lunghi 20 cm, seghettati, adatti alla caccia ed esercitano una forza di 235000 newton
Corpo: Muscoloso
Arti anteriori: Corti
Artigli: corti e inefficaci come arma ma quelli posteriori sono mortali
Arti posteriori: Muscolosi provvisti di tre artigli letali
Colore: Marrone con occhi dorati
Velocità: 30 km/h
Relazioni
Edit
Matt Anderson
Edit
N/D
Abby Maitland
Edit
Dato che si è presa cura di lui nel Serraglio prova rispetto come l'Imperatore Raptor.
N/D
N/D
Ad blocker interference detected!
Wikia is a free-to-use site that makes money from advertising. We have a modified experience for viewers using ad blockers

Wikia is not accessible if you've made further modifications. Remove the custom ad blocker rule(s) and the page will load as expected.